IQ Option operates in 200+ countries and specializes in forex pairs, binary options and digital options, cryptocurrencies, commodities, ETFs, and stock trading.
This article will help you figure out the IQ Option platform's nitty-gritty and answer a few questions about the broker's legitimacy and flaws.
What's the IQ Investment toolkit?
Originally, IQ Option became known as the options broker. Over time, however, they'd been expanding their toolkit by adding new instruments. For now, the full list looks like this:
| | |
| --- | --- |
| Forex | Leverage up to 1:1000 |
| CFDs on stocks | Leverage of 1:20 |
| Commodities | Leverage of up to 1:50 |
| Cryptocurrencies | Leverage is up to 1:5 |
| ETFs (Exchange-Traded Funds) | Leverage 1:20 |
It's possible to trade multiple assets at a time — you can manage them in the upper panel of the Traderoom.
Let's take a closer look at the Traderoom, since IQ Option's platform is one of the broker's main attractions.
How does the IQ Option trading platform work?
IQ Option platform has one of the most well-detailed traderooms in the market: you can configure the order/account settings, add multiple assets and run them on up to 9 charts, apply assorted indicators and graphical tools for technical analysis, manage funds, and check the analytics — all at the same time.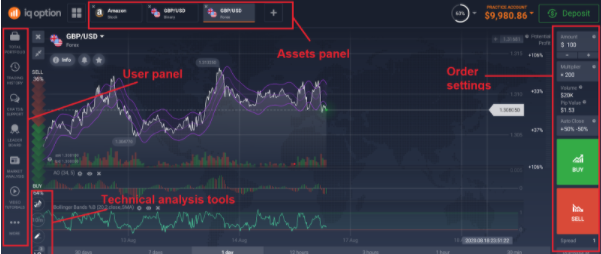 IQ Options Charts and Charting Tools
At IQoption, you can run up to 9 charts simultaneously, which is good when you trade multiple assets at the same time.
You can change the chart type to line, candles, bars, or Heikin-ashi. All indicators and widgets that you apply to your trades will be graphically displayed right on the charts.
Indicators and widgets
At IQ Option's, traders can access hundreds of favorite indicators depending on their binary trading strategy: momentum, trend, volatility, moving averages, volume, popular, and other indicators. 
Traders can also set up their charts to see meaningful trading events in real-time. IQ Option platform offers widgets like traders' sentiment, high and low values, trades of other people, news, and volume.
If you use certain indicators and widgets on a regular basis, it's possible to save them as templates.
Market analytics
You can follow up with the fresh market news without leaving the Traderoom thanks to the in-built market analysis tools: historical quotes, market updates, news, stock screeners, and several types of calendars.
Portfolio
You can track and manage your open and pending positions and check your trading performance and balance history anytime from the Portfolio section.
IQ Option Asset Index
Do you want to trade multiple underlying assets with one broker? IQ Option offers a wide assortment of trading underlying assets that might improve your trading experience. Read more about IQ Option underlying asset index below.
The complete IQ Option Underlying Asset Index
IQ Option offers more than 300 different trading underlying assets that are divided into four main categories: commodities, currencies, stocks, and indices. The list of all underlying assets is available in IQ Option underlying asset index on their site. Here we will mention some of the most important available underlying assets, but before trading, make sure to check the up to date list directly with the Broker:
Commodities
Crude Oil WTI
Crude Oil Brent
Gold
Currencies
EUR/USD
EUR/GBP
USD/CHF
EUR/JPY
NZD/USD
GBP/USD
EUR/RUB
USD/RUB
GBP/JPY
USD/JPY
AUD/CAD
ETFs
Dow Jones
S&P 500
FTSE 100
DAX
CAC 40
NASDAQ 100
Stocks*
Barclays
Daimler
Deutsche Bank
E.ON
RBS
Vodafone
Baidu
Facebook
Google
Intel
GM
Amazon
Boeing
JPMorgan Chase
Pfizer
Chevron
Verizon
SONY
Mitsubishi
WALMART
and many more
Even the pickiest trader might find at least one or two assets in IQ Option asset index that would be interesting for them to trade. And don't forget that with IQ Option you can create an account for just $10 and trade for as little as $1 per trade.
IQ Option Demo
When you register, you end up having both real and demo account at the same time.
IQ Option's demo account has 2 distinctive features:
It has replenishable $10,000 funds available
It doesn't have an expiration date
It means that you can use the Demo account to practice and test different trading strategies for as long as you want. If you need more virtual money, top up the account any moment for free. No one will push you to invest real money unless you're ready for that.
IQ Option Minimum Deposit
The real and demo accounts are identical in terms of functionality and interface. With the real account, you can trade binary and digital options, Forex pairs, cryptos, stocks, commodities, and indices in the real market. In order to start trading with the real account, you need to make at least a minimum deposit. Even though IQ Option accepts cryptocurrencies, do not mix it up with other crypto related products that were described in our cryptocurrency trading botreviews.
IQ Option minimum deposit is $10 and you can deposit using various payment methods. IQ Option accepts payments with AdvCash, VISA, Mastercard, Neteller, Skrill, WebMoney, Perfect Money. On top of that, the broker works with different local payment systems — check out which ones are available in your region in the Deposits and Withdrawals section.
Deposits can be made in any currency — the system will convert it to the account currency automatically.
You don't need to verify your account to deposit and trade, but it's necessary in order to request a withdrawal.
IQ Option Withdrawal
To withdraw, you need to verify your account first:
Verify your identity (send a photo of your passport or ID)
Verify your address (send some document proving that you live where you live)
Verify your payment method (take a photo of both sides of your card)
Usually, binary withdrawal requests are processed very quickly. Usually, traders opt for e-wallets — they are speedier and more comfortable in terms of commissions.
IQ Option withdrawal is possible via AdvCash, VISA, Mastercard, Neteller, Skrill, WebMoney, Perfect Money.
IQ Option Mobile Trading Solutions
IQ Option has a mobile trading app that you can download in App Store and Google Play. It's free and features the full platform functionality.
For binary options enthusiasts, the broker developed two alternative mobile solutions: APK mobile app and PWA app.
Why?
Because app stores don't encourage binary options trading apps in general. The two following solutions solve this problem for Android and iOS users.
APK (Android Package Kit) 
Since binary options app is not distributed in app stores, IQ Option suggests you download the APK app right from their website as an installation file, skipping the stores.
Download it from the IQ option website and install it on your Android device as you normally would with .exe files on your computer. After that, the IQ Option app will work on your smartphone or tablet.
PWA (Progressive Web App)
Technically, PWA is not a simple app but a web app, although it looks and acts like a normal app. To install the PWA, click the "Add to home screen" button in any browser. This app works for both iOS and Android.
IQ Option Spread
Do you want to know everything about the IQ Option spread? This article gives you all the answers.
Spreads can be described as a difference between a sell and buy price of a particular underlying asset for a targeted Call or Put option. The price difference is shown in percentage below buying option. With IQ Option spreads, traders can understand how much is it necessary for the price to modify in order to lead to potential money gain.
Everything about the IQ Option Spread
The spread is one of the most dreaded elements of trading conventional assets. Simply put, employing a spread means that your broker will sell you an asset for a higher price than he is willing to pay for it.
The difference between the higher price, which is called the bid price, and the lower price, which called the ask price, is the spread.
While nobody likes to pay a spread, with regular assets, brokers can make a convincing argument to why they use a spread. When you buy or sell an asset, your broker has to access the stock exchange and place an order.
This action involves systems that need to be maintained, licenses for certain types of software that need to be bought, and a certain amount of manpower to keep the entire system running. Taking a fee for this service seems reasonable.
With binary options, however, things are different. Since you do not buy or sell an asset but make a prediction about the future of an asset's price, your broker does not need the large system that enables communication with the stock exchange. Every transaction will be strictly between you and your broker.
With this price system, IQ Option offers you an interesting basis for your binary options trading. Make sure that you never invest in binary options with a broker that does not clearly state which price you will get. There are some rare examples where brokers tried to use the worse price for your investment. If you invested in rising pricing, the broker tried to give you the lower bid price. If you invested in falling prices, the broker gave you the higher ask price.
CFD IQ Option
IQ Option allows you to trade an asset just as if you were an active member of an exchange or marketplace, but without any of the hassles that come along with this. Let's take a look at a few of these things in a little more detail.
Lower entry. If you wanted to become an active day trader, you would need tens of thousands of dollars in capital to do so effectively. In the United States for example, you cannot day trade stocks without at least $25,000 in a margin account. CFD trading allows you to trade stocks just as if you were day trading, but without a large amount of money. Many profitable CFD traders started out with just a few hundred dollars in their account, growing it over time.
No ownership. The ownership of stock, currencies, or commodities comes with responsibility. Typically this responsibility is very little, but there are times that it could be problematic. For example, if you own ten shares of a company that unexpectedly declares bankruptcy, it could be hard to fill a sell order on them, and you might find yourself stuck with worthless stock. Or, if you have a futures contract where you've gone short on 100 barrels of oil and you are unable to find someone to fulfil or purchase the contract, you might find yourself legally obligated to provide this actual commodity to another party. These are rare, but they can occur. With CFDs, this can never happen.
Quick. Most CFDs have short term expiries. Just like binary options, CFDs can expire in just a few minutes. This allows you to take out multiple positions per day, spreading out your risk. At some sites you can use leverage to boost your earnings potential. Just be careful here. Leverage increases your risk, and it's possible to multiply your losses, too.
IQ Option Payout
Do you want to trade binary options but the potential payouts confuse you? We'll explain everything you need to know. Learn more about the IQ Option payout below.
How Does the IQ Option Payout Work?
In the world of binary trading, payouts are a relatively common phenomenon. All of these payouts, however, differ from payouts on binary options in one very important characteristic: They calculate their value differently.
To understand this essential point to binary options trading, let us look at an example and compare it to binary options. When you bet on a sporting event, which is quite different than binary trading, your bookie might offer you a payout of 5.0 if team A wins and a payout of 1.3 if team B wins.
With binary options, a payout only indicates how much could one potentially make if you predict price movement correctly. The fact that you get your investment back is considered to be a given.
When you compare the possible earnings of binary options and other forms payouts, you have to consider the different nature of binary option payouts, or you can never arrive at an accurate result. A payout up to 91%* with IQ Option can be achieved if traders have sufficient successful trades.
*Amount will be credited to account in case of successful investment
This difference is important to know for two reasons:
If you do not know this relationship, you might underestimate the potential binary options earnings compared with other assets. In the worst case, you might think that a payout up to 91%* means that you get less money back than you invested and stay away from binary options when in reality is almost a guarantee to make money.
When you compare payouts of different binary options types, you have to understand that you can't compare them the same way you would compare other payout types.
*Amount will be credited to account in case of successful investment
IQ Option Tournaments
Several times a month, IQOption announces tournaments for traders. The participants register a special tournament account with a fixed amount of play money on it and start a trading race. Those who finish with the highest profit get a share of the money prize. Usually, the prize fund is $10,000-50,000, but some are higher. The prize is withdrawable — the winners can use the money for their personal needs or for future trading.
The odds are high because the prize fund is distributed among the first 9-30 winners depending on the tournament. Check out the ongoing tournaments in the Tournaments section of the website. Some tournaments are free, others come with a little entry fee, usually around $2-20. The prize fund in the paid tournaments is usually higher.
IQ Option Robot
Many traders look for automated trading opportunities these days. IQOption used to have one in the past, but it's unavailable in 2020.
How come?
The company's point is that binary option auto trading can never be as efficient as human trading. Indeed, machines can make automated decisions, but they can't be creative, which is very important in the long run. So, whenever you see "IQ Option robot" on the internet, be aware that it's not an official IQ Option software, and that you're using it at your own risk.
Is IQ Option Safe?
IQ Option is operated by IQ Option LLC registered at St. Vincent and the Grenadines. IQ Option uses top-of-the-line encryption methods to protect traders' data. IQ option services are available in 17 languages, so if something goes wrong, you can always contact the support team in your native language.
What's IQ Option tax and do I need to pay it?
Here's the list of all extra costs involved:
Income tax — if your country's legislation requires you to declare your earnings from trading, you'd have to pay them yourself according to the local laws.
Deposit and withdrawal fees — one free withdrawal per month, and 2% of the amount withdrawn is charged for each subsequent withdrawal to all payment methods
Trading fees — always zero.
Commission fees — you don't pay anything except for a 2,9% commission for long cryptocurrency positions.
Conversion fees — currency conversion fees apply when you deposit and withdraw foreign currencies.
Swap fees — 0.01% – 0.5% fee is charged on CFD positions left open overnight.
Inactivity fees — if your account is inactive for 90 days, you'll be charged a $10 fee. The user will receive a notification beforehand so they could re-start their activity or withdraw the remaining funds.
IQ Option Education
Do you want a broker that helps you become a more educated trader? Then the IQ Option education center might help you.
What the IQ Option education center has to offer
Understanding the concept of binary options isn't confusing: You have to predict whether an asset's price will rise or fall over a given period of time.
To help you become a binary trader, IQ Option offers an education center that provides you with many interesting things you need to know to become a binary trader. The IQ Option education center offers you a number of learning tools.
First of all, the IQ Option education center starts by teaching you the basics of the IQ Option trading platform, binary options in general, and technical analysis. Lessons focus on basic topics such as "registration and interface", "how to trade", and "platform review", but also more advanced topics such as "Japanese Candlesticks", "Trend lines".
With these lessons, you can start trading, if you like. Each lesson is packaged as a short video of around 1 minute or less, with quality graphics and informing commentary. All of the lessons in this category are available for everyone to watch.
To access the more advanced lessons, you have to sign up with IQ Option. Only registered members can watch the lessons that concern specific patterns such as trading with moving averages, using Bollinger bands.
The trick is that you do not need to deposit any money into your account to watch these videos. It is enough to fill out the registration form (you can access the form with the link we provided for you).
After that, you can still decide whether you think that IQ Option can become a right broker for you or whether you would rather try another broker from our list.
IQ Option: scam or legit?
Over the seven years of its history, IQ Option proved to be a reliable broker that delivers its promise. The trust level in the international community is high and proved by 48 million traders all over the world, positive reviews, and 17 international awards.  Traders from USA should check our Nadex review since IQ Option is not accepting traders from United States.
What are the common IQ Option complaints?
In spite of the overall well performance, there are still some bumps. Here are some common ones:
There's only one type of real account. Most users trade with the same conditions, so if you're looking for something strategy-specific, you won't find it there. However, the basic conditions are fair and suitable for most traders. You can get extended account conditions if you go VIP — for that, you will usually need to make a significant deposit, so best to check with IQ the conditions that apply to you specifically.
Price manipulation. Sometimes you can see the criticism of the IQ Option platform regarding the expiry strike being different than the market price. This information isn't proved: the broker works under international law, which is very hard on cheating. Most of the time, such complaints arise from traders' not paying close attention to the time intervals used.
They don't answer my calls. IQ Option has toll-free lines for certain countries, but those are not available everywhere. If your country is not on the list, use online chat (they usually reply in 40 seconds) or email them at

[email protected]

. 
Finally, is IQ Option fraud?
From what was pointed above, it's fair to say IQ Option cares about their clients and doesn't risk their reputation. Just make sure you stick with the official product because there are some fraudulent doppelgangers on the internet.
 General Risk Warning: The financial products offered by the company carry a high level of risk and can result in the loss of all your funds. You should never invest money that you cannot afford to lose